Whether you are visiting the Maldives for a few days or a few weeks, there are a number of activities you must do while you are there. There is something for everyone!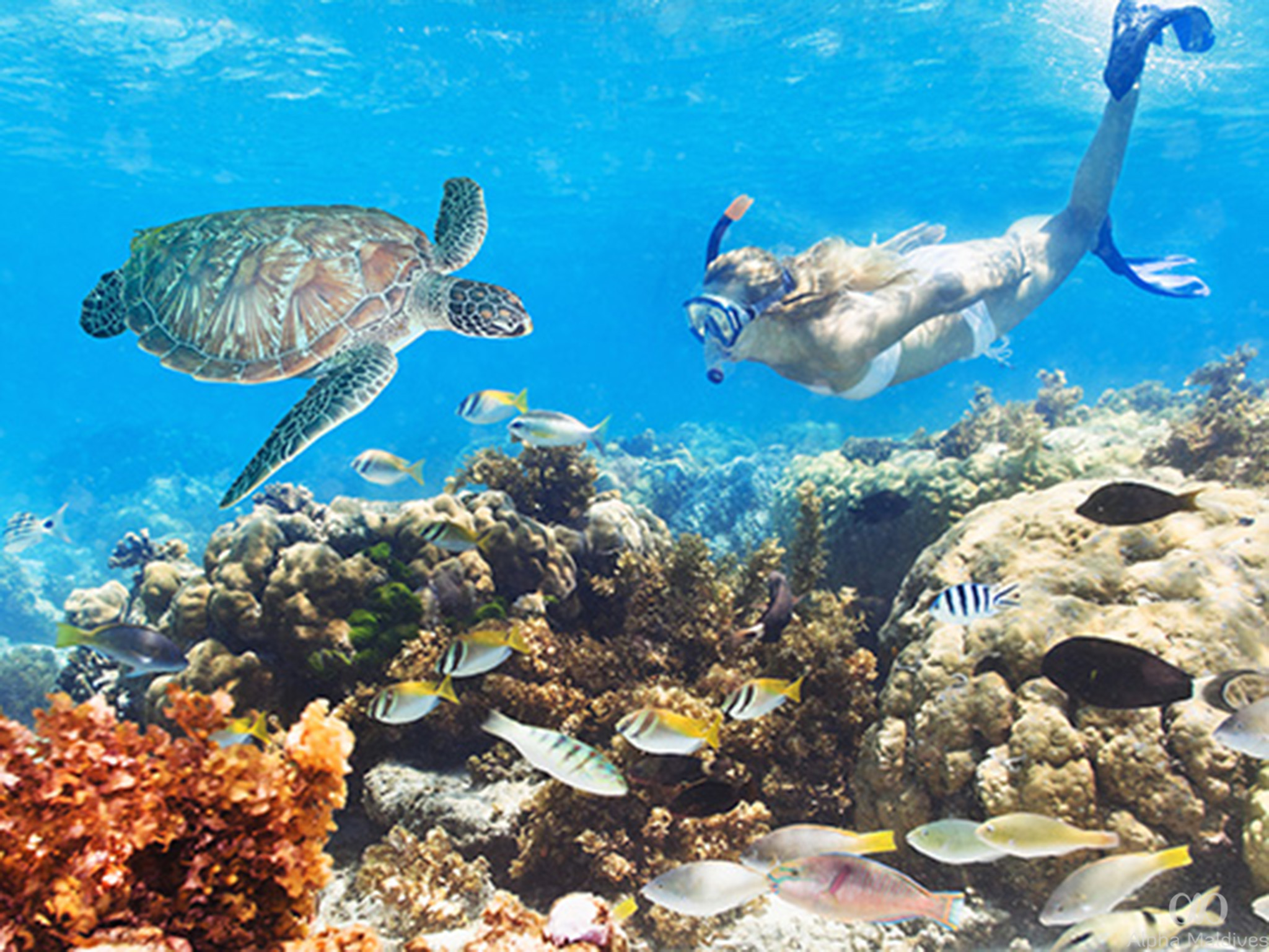 1. Snorkelling
Even if you are a novice, when visiting the Maldives, snorkelling is a must. There's an amazing underwater world that is completely missed when you stay on dry land. The reefs are alive with 70 species of unique vibrant coral and more than 700 varieties of fish and sea life ensure you are spoiled for choice. If you have never snorkelled before get started by booking your holiday on one of the islands that have a good house reef. This basically refers to an area of the island where it is possible for you to snorkel straight from the beach and of course one that has great coral and fish life. Options include Dusit Thani and Angsana Ihuru. Your next step as a novice is to book an instructor from the resort who can teach you how to safely snorkel.
2. Swimming with the Whale Sharks
Whale sharks are slow moving, filter feeders and are known as the largest fish in the sea. There are only a handful of places in the world where you can swim with these gentle giants of the deep and the Maldives is one of them. The Maldives Whale Shark Research Programme ensures protection of the species, working with Conrad Rangali Island tour operators to monitor the sharks you get to swim with. You may want to visit during the annual Maldives Whale Shark Festival which happens every June at rotating island venues of the South Ari Atoll. If you encounter them on your own snorkelling expedition, keep a safe distance, don't be tempted to touch them or take photos of them using flash photography.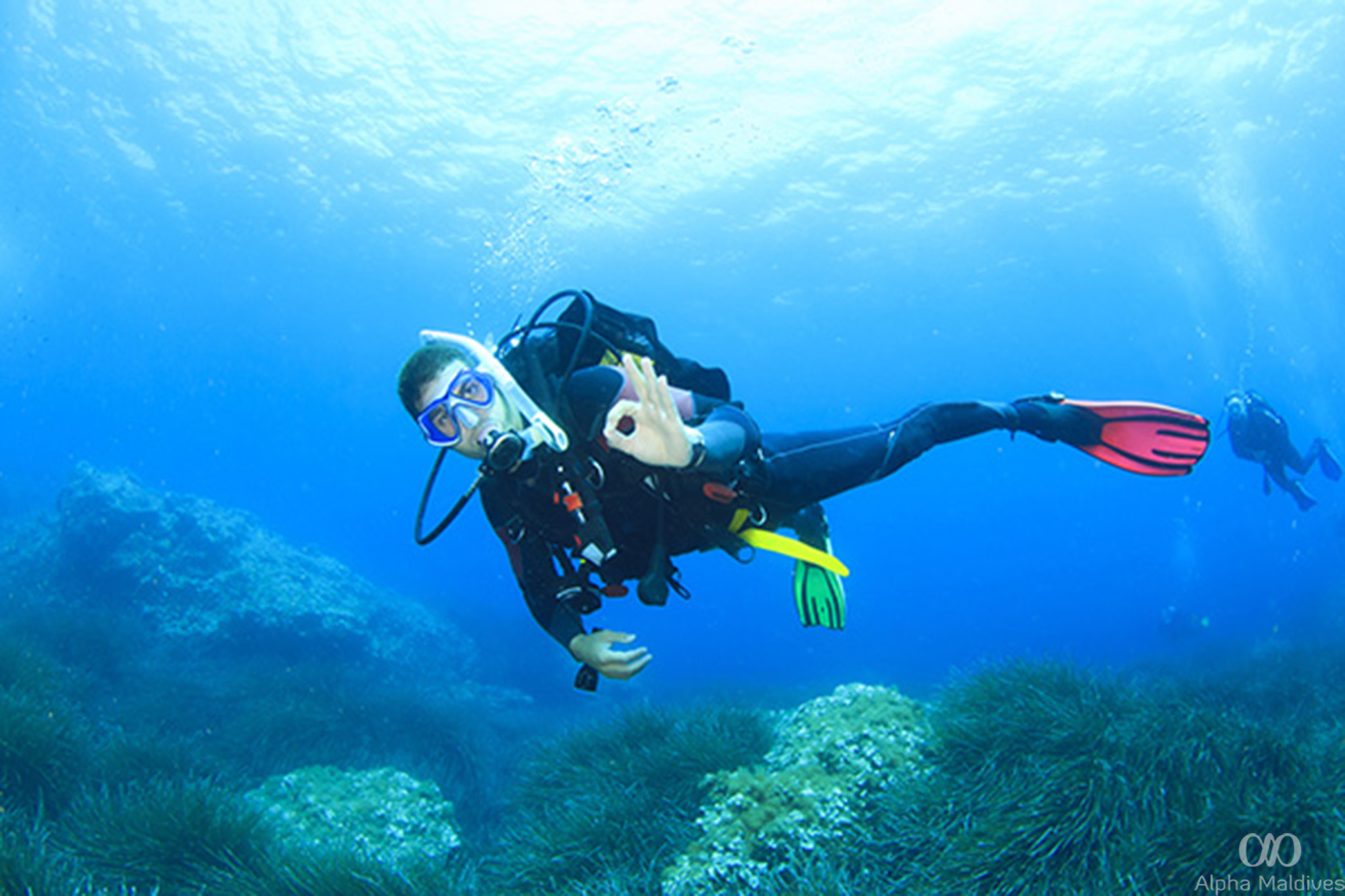 3.Diving
If you are a fan of diving, the Maldives may be on your bucket list for that very reason. It's a magnificent, expansive water playground for divers of all levels. Multitudes of underwater channels connect the warm Indian Ocean with the island lagoons, bringing in rich nutrients and plankton and attracting a wealth of marine life. Add to that colourful coral and crystal clear waters with superb visibility and you soon learn that diving these waters is an unforgettable experience. Regular divers who visit the Maldives often choose a Liveaboard accommodation option where you are a guest on a luxury yacht that provides full board and catering along with dive experts. If you are not a serious diver and want to keep your activity options open, then staying at a resort would be the way to go. You can still hire a dive expert to show you the best spots depending on your level of expertise. Either way, diving in the Maldives will leave a lasting impression.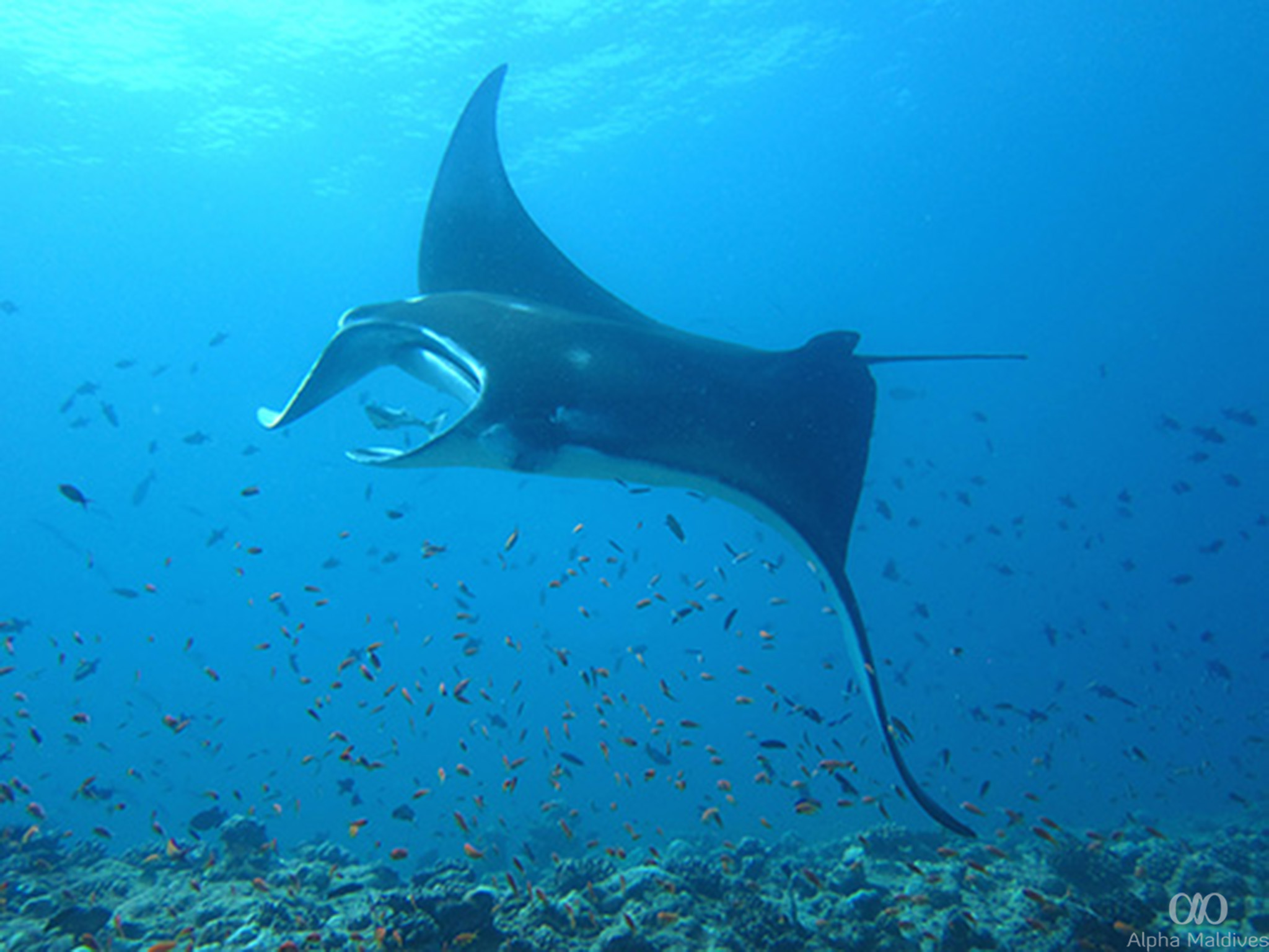 4.Manta Feeding
The word 'manta' comes from the Spanish word for cloak or shawl. Manta are fish that are closely related to rays and whale sharks. About 5000 manta are believed to call the Maldives their home. Attracted by rich nutrients they swarm to where they find the most food. Excursions are arranged by the Manta Trust are available to view manta at various nutrient rich zones around the Maldives particularly the Baa Atoll, the Raa Atoll and the Lhaviyani Atoll. These excursions are at the perfect times of the year when masses of planktonic food is found in the water, washed in by the currents. Hundreds and hundreds of mantra swarm to the area and a feeding frenzy ensues.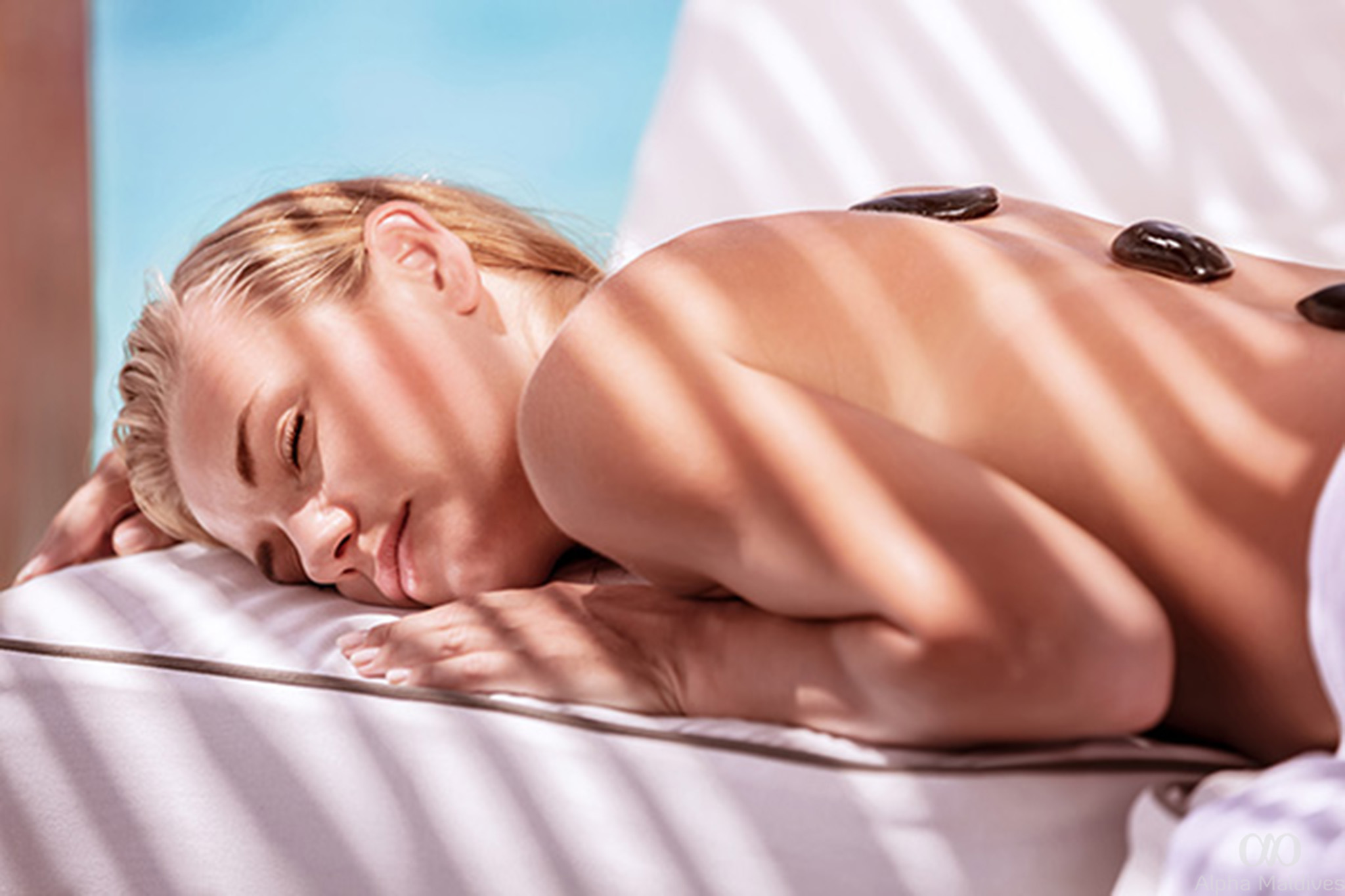 5.Spa Treatments
Beach and spa resorts are plentiful and found throughout the archipelago. They range from exclusive and private to family friendly. Many facilities are available at the spas, including steam rooms & sauna along with Jacuzzis & hydrotherapy pools. Choose from traditional massage to luxurious facial treatments. Professional staff use a number of techniques and products to ease strained muscles and nourish sun-kissed skin. Blending their skills with traditions from other parts of the world such as Sweden, Bali, Thailand and Japan a unique Maldives spa treatment ensues. You are sure to return home feeling relaxed and rejuvenated.
6.Sunset Cruise
Sunset in the Maldives is dramatic and there's no better place to enjoy it than from the deck of a luxury yacht. Enjoy the sky change from cornflower blue to dramatic red as the sun dips towards the horizon. Sip a cocktail, hold hands with your partner, soak up this minute in time – it will never come again – appreciate the pleasure. These kind of unforgettable moments are often found in the Maldives and come into sharp focus when you can enjoy them from the water. Don't miss enjoying a sunset cruise.
7. Private Dining
The Maldives can be a busy place. Families frolic in warm ocean waters, honeymooning couples, divers and numbers of tourists flock to the islands to enjoy its beauty and varied amenities. But that doesn't mean there is no privacy available. If you would like a private dining experience, ask the host at your resort and it can easily be arranged. The most popular option is for a table to be set up in a quiet corner of the beach and for you to enjoy an intimate candle-lit dinner with staff providing for your needs. So whether it is for a special occasion or just to celebrate your life together, don't miss out of this opportunity to make a special memory with powdery sand beneath your feet and the moonlit sea lapping just metres away.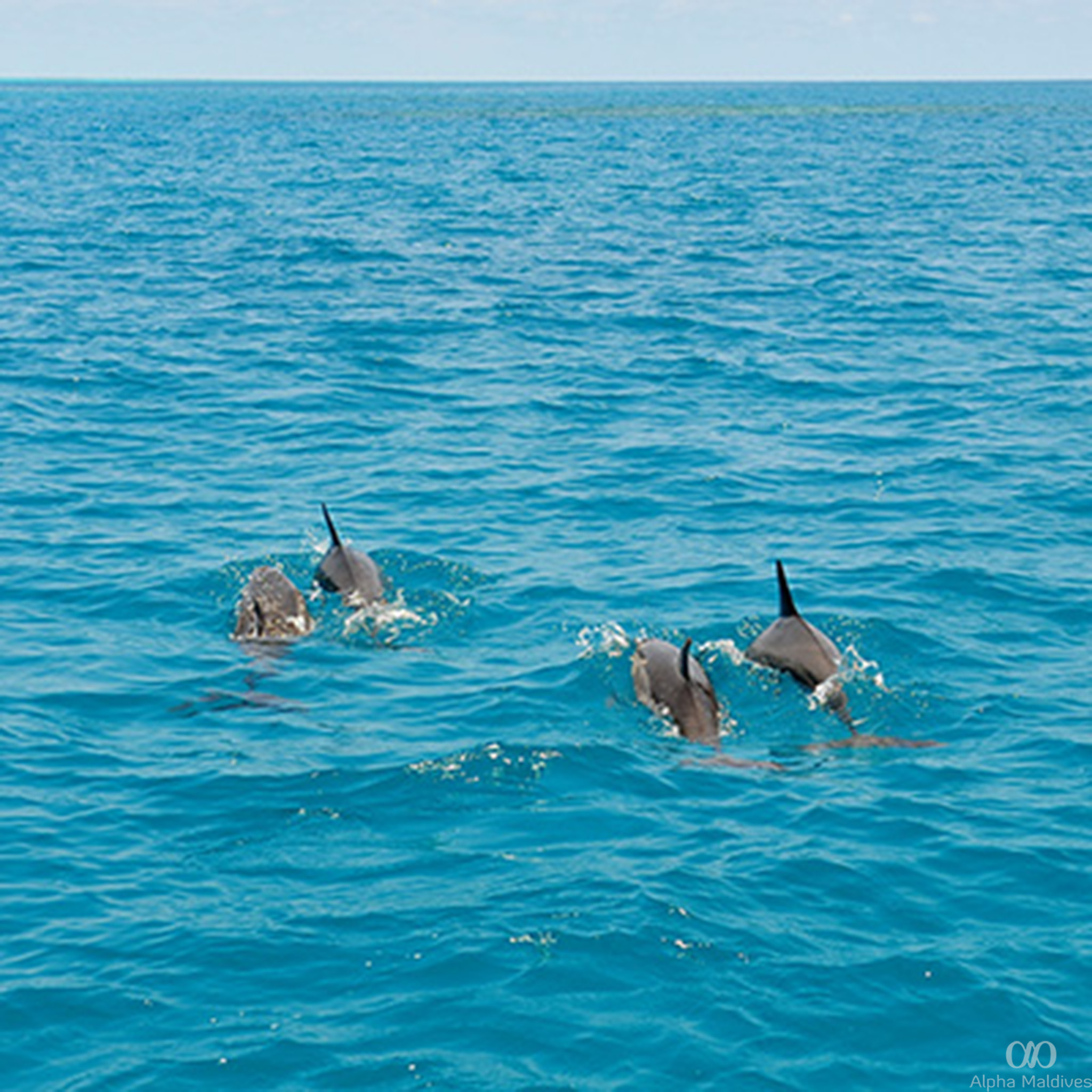 8.Dolphin Cruise
The best time of the day to spot dolphins is early in the morning and later in the afternoon. These creatures of habit feed in the ocean and night and come closer to shore each morning. Later in the day they leave again for their feeding grounds. The Maldives archipelago is one of the most spectacular areas in the world for viewing the thousands of dolphins that majestically leap through the waters of the many islands. Dolphin watching safaris are available for you to get a closer look at these wonderful creatures of the sea. It's another exciting option for your holiday.
9.Scenic Seaplane Experience
If you truly would like to get a complete overview of the Maldives, there is no better place than to view it than from the air. Trans Maldivian Airways has the largest sea plane fleet in the world. Taking off and landing on the water is an experience in itself. Viewing the archipelago from the sky adds to a unique visual adventure. Enjoy the spectacle of seeing the coral reefs and the sea life as well as the island's amazing shore line and vegetation.
10.Private Island Experience
Whichever island you visit in the world, there are special places that most visitors don't know about. The Maldives is no different. The Rania Experience could quite easily become your most favourite holiday of all. An exotic intimate beach, luxurious private home with the exclusive use of the island yacht and personal staff all add up to an unforgettable holiday.