Maldives Holiday Yacht Charters
The Maldives is a beautiful collection of islands randomly scattered in the Indian Ocean making apace to the highest rated popular luxury yacht charter destinations. It has, no doubt, the silkiest waters to cruise across in one of these dream vessels. Maldives yacht charters take place in the northern hemisphere´s winter, the same time as the Caribbean, proving to be a very interesting and exotic alternative to this traditional location, adding that extra touch of luxury and adventure to any Maldives holiday or honeymoon!
Alpha Maldives can enhance your holiday or honeymoon package, by including a yacht charter. Various options are available, so make sure to speak to us to include this once in a lifetime opportunity and truly create your dream Maldivian retreat.
Our exclusive yachts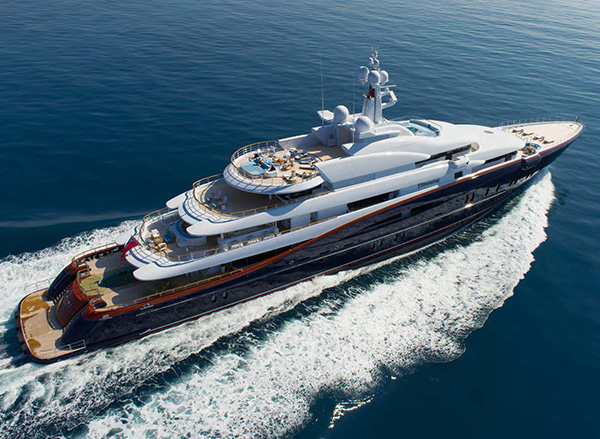 M/Y Nirvana
Without question the most impressive yacht on the market today, every inch of NIRVANA has been painstakingly designed and built. Arriving from the swim platform or the passerele, guests arrive onto the vast aft deck complete with 7.5m counterflow pool and a large sunbed aft. The floor of the pool rises to create a huge deck for entertaining while forward in the main salon is a bar and exotic reptile house separating it from the dining area.
Rate per week: EURO 900,000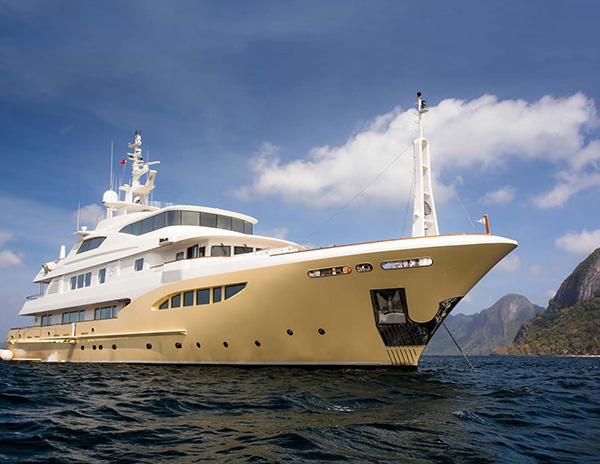 M/Y Jade 959
New on the charter market since September 2015, superyacht JADE 959 has showstopping powerful lines and exterior by renowned Espinosa Yacht Design. Central Yacht created a contemporary interior in muted neutrals. Italian cachet is added with fashion house Fendi custom-made sofas and chairs with soft leather furnishings. The 52-m JADE 959 accommodates 12 guests in 6 cabins of which 2 Master 'family staterooms' with an optional extra sofa bed each.
Rate per week: USD 300,000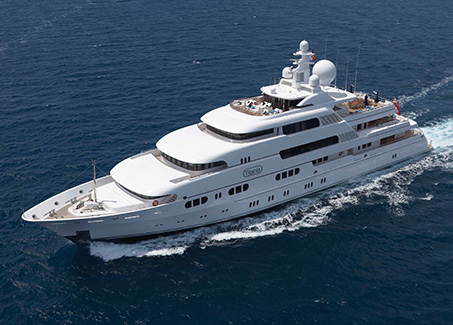 M/Y Titania
Delivered by Lurssen in 2006 with a magnificent refit completed in 2012, TITANIA is designed for an effortless indoor-outdoor lifestyle and is stamped with the pedigree of one of the world's premier shipyards. Her features include all the essential attributes for luxury living afloat: vast entertainment spaces, superlative accommodation and state-of-the-art amenities. The yacht has classically designed and sympathetically upgraded Francois Zuretti interior.
Rate per week: USD 600,000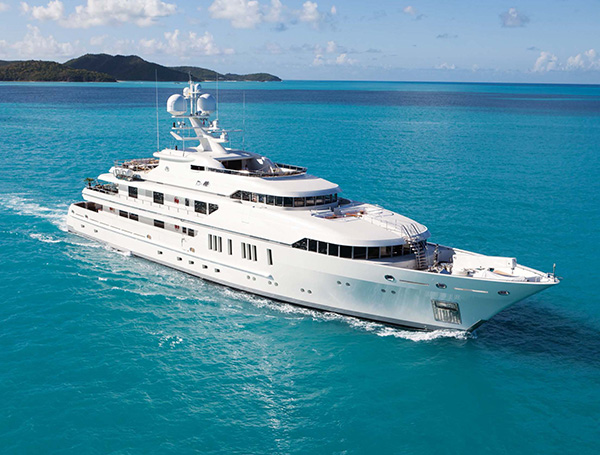 M/Y Roma
RoMa is a fusion of so many good ideas in so much space. The sun deck measures 50 per cent of her overall length, meaning no activity will ever impose on another guest's peace and quiet: the silence of sunbathing. Roma is cool classic chic European style. Two huge open plan saloons link with external dining areas to provide expansive entertaining space.
Rate per week: EURO 395,000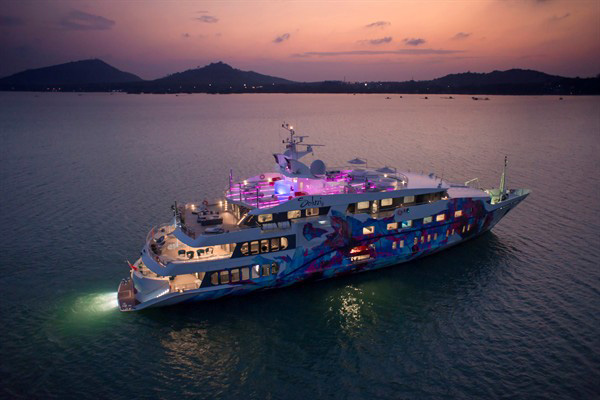 M/Y Saluzi
Built by the Australian shipyard Austal in 2003 as a small luxury cruise ship for Polynesia service, Saluzi was transformed into a megayacht. Boasting a brand new interior by Luiz de Basto, she now has large public spaces and extensive deck areas. Saluzi accommodates up to 32 guests in two master suites, seven VIP staterooms and seven twin cabins. All staterooms have full entertainment systems and en suite facilities. An extensive range of water toys includes a Castoldi tender, jet board, SeaBob underwater scooter, two Yamaha jet skis and the biggest water slide in the world.
Rate per week: USD 480,000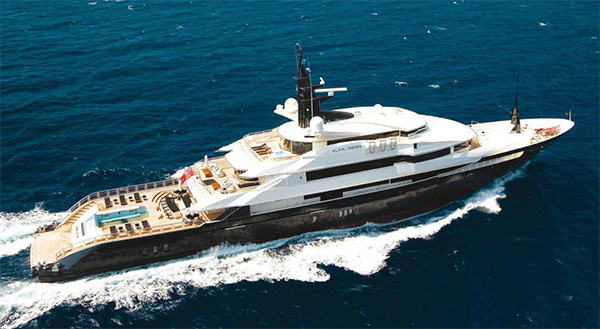 M/Y Alfa Nero
ALFA NERO was launched to universal acclaim in 2007. She sailed off with every important award including Boat International's interior and exterior yacht of the year, Showboats' best yacht over 75 metres and Yachts International's most innovative yacht over 40 metres. In simple terms she was the finest new yacht in the world. The upper deck is given over to the owner's residence. The aft deck includes settees that flank a skylight.
Rate per week: EURO 840,000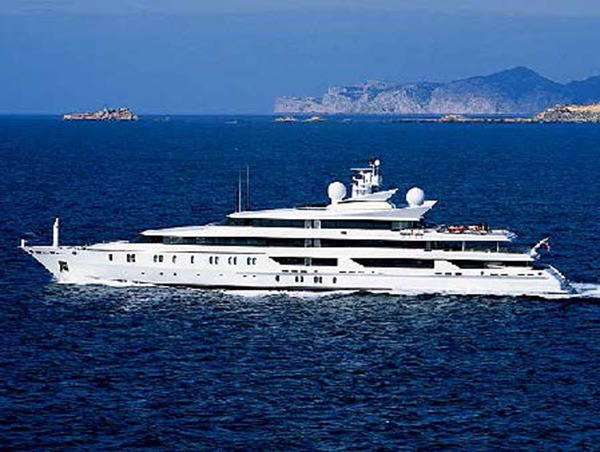 M/Y Indian Empress
Providing 95 metres of sheer opulence, Indian Empress is dedicated to just 12 guests with a crew of 30 on hand to satisfy every need from a deep Reiki massage to pink champagne on the verandah. An entire deck is devoted to the master apartment that includes a private lounge, full-beam bedroom, additional double and twin bedrooms, a gymnasium, sauna and steam room. In the banqueting room, 24 guests can be seated around one table for an elegant dinner or a business conference. On deck, serpentine red sofas are shaded by bright yellow parasols. Entertaining space is unprecedented for a private yacht and up to 500 guests can be served cocktails and canapés on the bridge deck.
Rate per week: EURO 550,000

The Maldives provides luxury yacht charter holiday makers with a wonderful climate, superb beaches at times referred as best in the world, and amazing coves and lagoons. The Maldives is an archipelago consisting of 1,190 coral islands. Accordingly, there is exceptional scenery and natural beauty for the abundance of recreational activities and adventures. What better way to explore this paradise than an on-board luxury crewed yacht?
The Maldives contains radicals of 26 atolls in completely natural formation. This stretch across the equatorial band in a rainbow of luxurious jade green tropical vegetation and pristine soft white sands. Out on a Maldives yacht charter you will experience every possible shade of aqua and turquoise.
If you are interested in nature, marine life and diving then this is the place for you. This area of the world is characterized as amazingly unique underwater life and ecology featuring a world of dazzling coral gardens and ocean life. The remote and unspoiled Indian Ocean location currents as well as the year-round tropical climate ensures you a majestic experience.