This is a fact that you may not know: there are 10 airports in the Maldives. Yes! Ten. There are 4 international and 6 domestic. Together they make it very easy to get around the Maldives, opening up all corners of the double chain of 26 atolls to locals and tourists alike. Let's start with 3 of the international airports.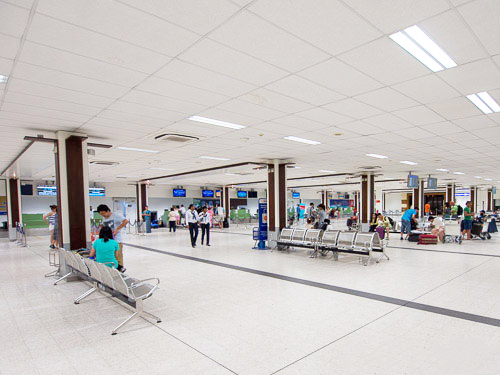 International Airports
Ibrahim Nasir International Airport
Going by the letters MLE, Ibrahim Nasir airport is often referred to as Male International airport. It is the country's biggest, most well-known airport and is the primary gateway to the Maldives. Situated on its own island (Hulhule) this single runway airport is a 10 minute (1km) ferry ride to Male, the capital of the Maldives. With great infrastructure, Ibrahim Nasir is well equipped with airport facilities that include, among other things, duty free shops, lounges, restaurants, internet facilities, a wellness centre and even a gym. You can leave the airport island by speedboat, dhoni, seaplane or ferry.
Gan International Airport
Situated in the southern-most atoll (Addu) of the Maldives is Gan International Airport. Commonly abbreviated to GIA, its official airport letters are simply GAN. It was first used as a landing spot by the British in the Second World War but was handed over to the Maldives government in 1976. GIA is on Gan Island in Addu City. Flights into and out of Gan are far less frequent than Ibrahim Nasir but it serves a useful purpose as an access point for the far south of the island chain.
Hanimaadhoo International Airport & Villa International Airport
The other two international airports of the Maldives do not receive as much international air traffic as Ibrahim Nasir and Gan. Hanimaadhoo International Airport (HAQ) has flights arriving and departing from neighbouring India, while Villa International Airport (VAM) is primarily used for domestic purposes, transferring travellers to 6 different atolls.
Domestic Airports
As far as the domestic airports of the Maldives go, there are six. It is really only over the last 5 years that a number of new airports have been developed to accommodate rising numbers of tourists flocking to majestic island retreats for a holiday of a lifetime. Here is more information about three of the domestic airports in the Maldives.
Thimarafushi Airport (TMF)
Thimarafushi Airport is the most recent airport to open – it began operating in 2013 on an island in the Thaa Atoll which is in the central area of the Maldives. Flights arrive here from the country's international airports and are then able to transfer to resorts in the region.
Dharavandhoo Airport (DRV)
In 2012, Dharavandhoo Airport began servicing resorts and holiday retreats in the popular Baa Atoll. About 8 flights arrive and depart from this airport every day, ferrying passengers mainly to and from Male but also as an air service to other Maldivian domestic airports.
Kadhdhoo Airport (KDO)
Kadhdhoo Airport is one of the earliest domestic terminals in the Maldives. Situated on the same island as the Maldives National Defence Force (in the Laamu Atoll) its runway was completed in 1986. It lies roughly half way between Male and Gan (Addu Atoll) and was initially constructed to improve access to the outlying areas of the Maldives. It now serves as a useful domestic airport for both tourism and industry. It is unique in that passengers travelling to nearby resorts to the north and south-west can access them by road along an 18km causeway that connects 4 islands over the sea, making it the longest length of dry land in the Maldives.
Note: there are two Gans in the Maldives – one on the Addu Atoll which has Gan International Airport and one in the Laamu Atoll which is closest to Kadhdhoo Airport.
The remaining domestic airports are: .Kooddoo Airport (GKK), Kaadedhdhoo Airport (KDM) Fuvahmulah Airport (FVM). The Maldives never ceases to surprise and exploring the archipelago through its diverse and interesting airports is another way to indulge in this special area of the world.