If you love to surf, then a vacation in the Maldives is ideal for you. While the sea remains warm throughout the year, the best surfing is generally to be had between March and October.
Surfing is a popular past time in the Maldives – there are three main atolls that surfers frequent – they are the Malé, the Central and the Southern. They vary in size, of swell and of popularity.
Malé Atolls
The Malé atoll surf spots are the busiest, particularly in the summer months, so go prepared to make a lot of new surfing friends and share the ocean with numbers of others.
The outer reefs are accessible by boat – this is where the swells are at their best. They are usually in the south-eastern side of the atoll. Resorts provide water transport to the area and when it's busy, it can be an interesting experience navigating other surfers and the vessels which are coming and going.
A few of the top surf spots in the Male Atolls include:
Chickens (named after a nearby poultry farm) – is off an uninhabited land mass, next to Thulusdhoo Island. Swells are up to 10 feet with rides of up to half a kilometre.
Cokes is also close to at Thulusdhoo (at which there is a coca cola factory – hence the name Cokes). Intermediate surfers will enjoy this one, although when the surf is big, more experience is required.
Honkys and Sultans are both situated off Thaburudhoo Island and this area is considered to cover some of the best Maldivian surf possible. Honkys is onshore while Sultans is off shore and they tend to be less popular than Chickens and Cokes, so worth a visit in high season.
Central Atolls
The Central Atolls speak for themselves in regard to position – they are situated between Malé and the Southern Atolls of the Maldives. Here the bigger swells can be experienced between June and September. One of the big advantages of seeking out the Central Atolls is that they are quieter and are ideal for the crowd conscious surfer who prefers the solitude of an open ocean.  There are two main Atolls that grab the attention of surfers:
These surf spots are along an east facing coastline. They are in close proximity to each other so you can move around quickly. Names to look out for are Veyvah, Mulha and Muli.  Muli can break inside and outside. Inside (also known as F1 for its speed) is protected from southerly winds, is fast but works best.
with bigger swells. The outside break (known as Mushrooms) is good when the wind is from the south-west. It has long walls and better swell.
Surf spots here are pretty wind protected and have options which will suit intermediate and advanced surfing fanatics. Maabaidhoo will give you a lot of fun for both long and short-boarders. Ying Yang has sections which are ideal for intermediate surfers, but there is a section that can be an adrenaline rush of note.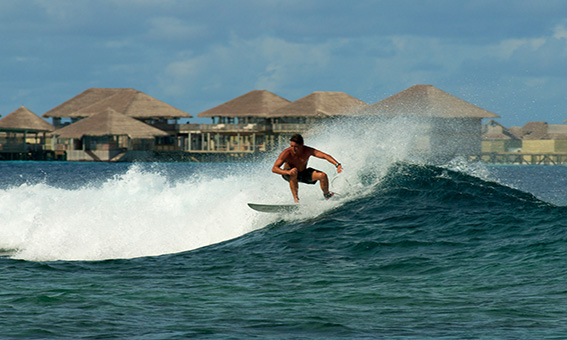 Southern Atolls
The surf spots here are unique as the season is long, extending from March and October. They are very remote and therefore not as frequented as the other surfing spots in the Maldives. Another reason for this is because a permit is required for boats to travel to them. In fact, so remote are they, that there are probably secret unknown surfing spots still to be discovered.
Tiger Stripes, also known as Rockets, has consistent swell and can be enjoyed at both high and low tide. Waves here are at their best when the wind if from the west-north-west. It can be challenging when the swell is strong. If you don't want Tiger Stripes, second option is Antiques, which is smaller. Be advised that Beacons is only for advanced surfers. Other surf spots to be on the lookout for in the Southern Atolls are Castaways, Love Charms and Five Islands.
In the Southern Atoll you also find Six Senses Resort, Laamu. This is a great spot to stay if you are an avid surfer.  Very close by the resort you will find one of the best known surfing spots in the Maldives – the Yin Yang. Daily excursions can be arranged to this reef which is on the local island of Hithadhoo. Every year Six Senses, Laamu also host an international surfing day. It's usually around the time of the summer solstice and is a great time to visit the resort and take part in the surfing activities.
Four Seasons resort also caters for the avid surfer. In fact, they have a surf school run by Australian surf professionals. Whether you are a novice or an expert, you will enjoy the options for surfing not far from this resort, which is only 20 minutes by boat from Male. They actually also have a Surf Special which includes guided boat trips to the surf spots and complimentary use of surfing equipment.
Wherever you are staying when visiting the Maldives, the options for surfing are multiple and your tour guide or resort will be happy to point you in the right direction.