With balmy year round temperatures of between 27°C (81°F) in January and 29°C (84°F) in March, the Maldives is one of the world's best destination for wining and dining on the beach.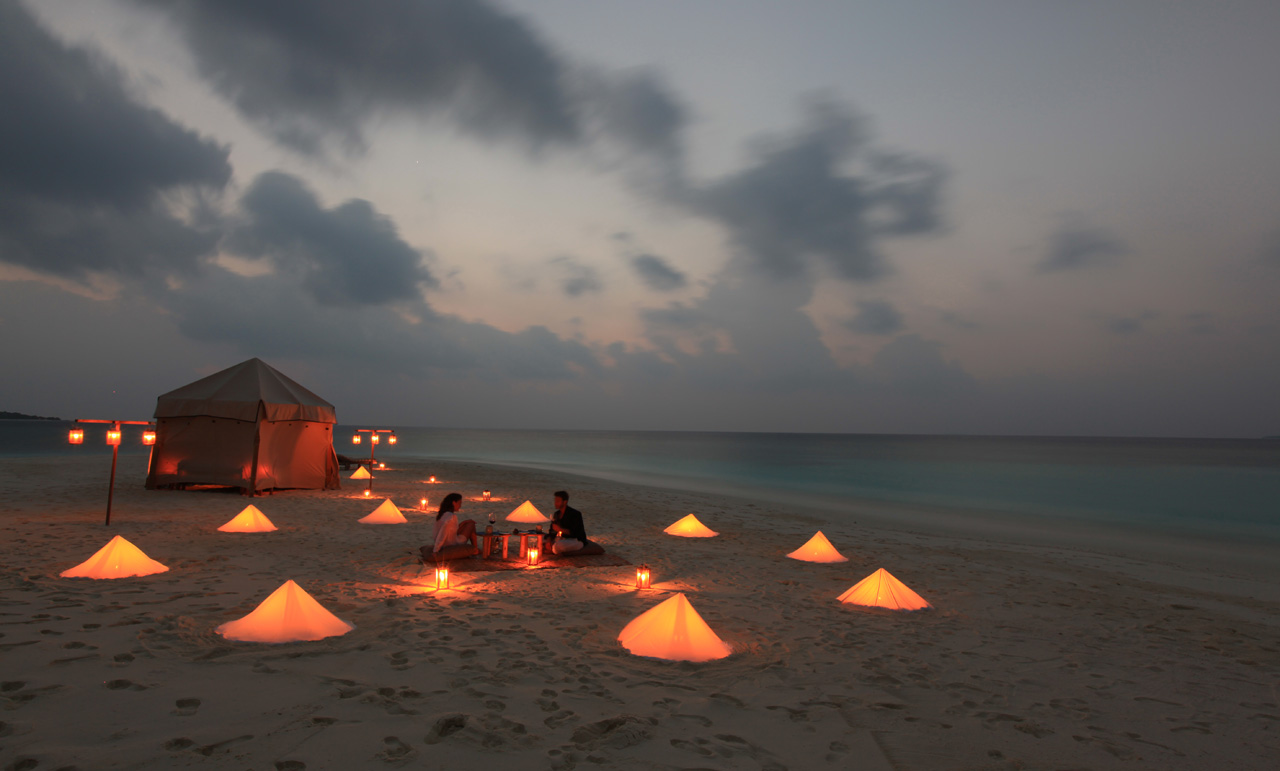 Soneva Fushi
Majestically situated on Kunfunadhoo Island, Soneva Fushi is one of the best places in the world to experience beach cuisine. With soft sand between your toes, linger over a candle-lit dinner seated at an elegantly set table, beneath a canopy of stars. The scene is complete with the music of the sea lapping just metres away. Expect a unique menu from world class chefs who produce eclectic dishes with Japanese and Korean accents. They come accompanied by produce fresh from the island's garden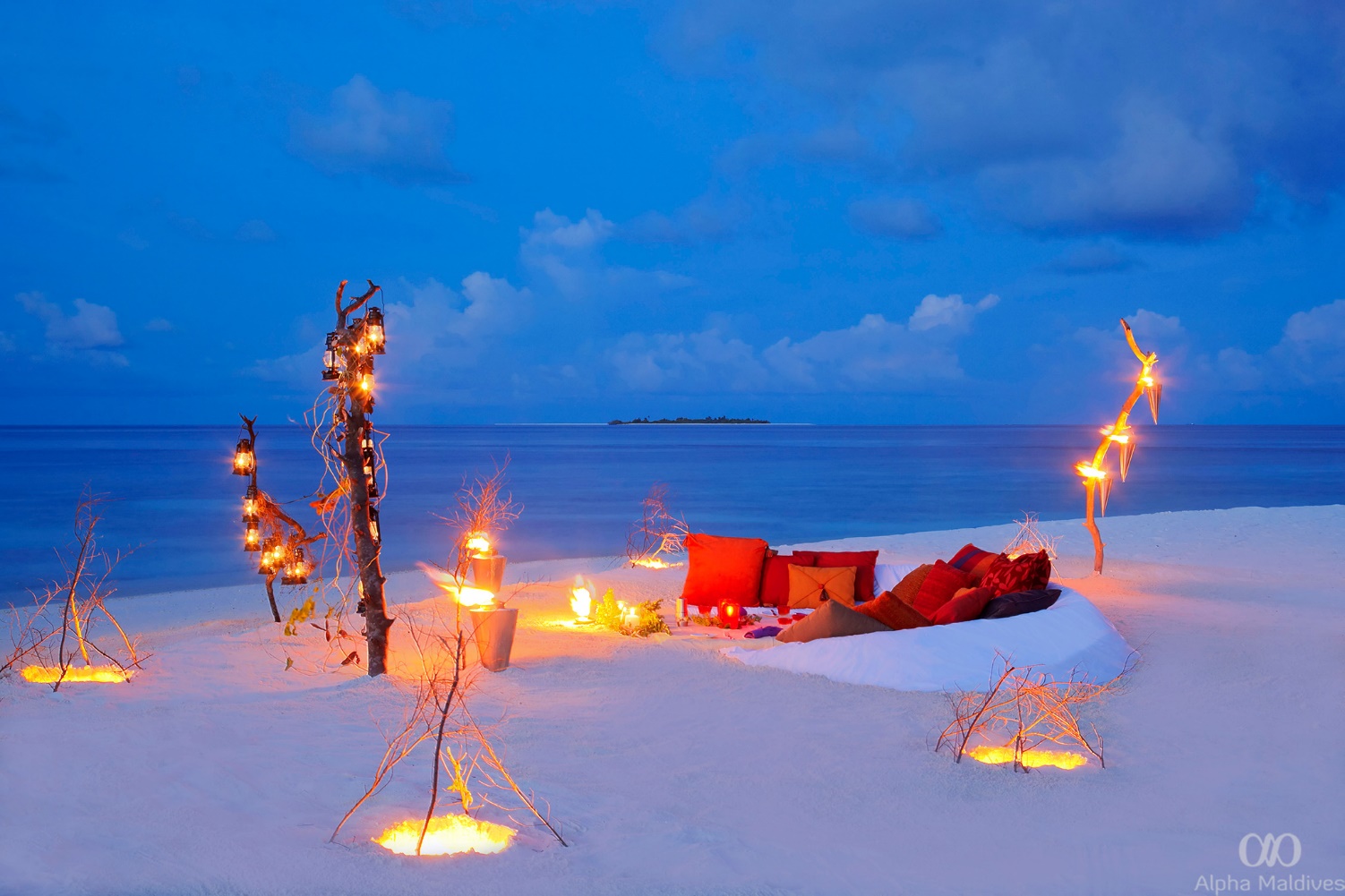 Anantara Kihavah 
The beach restaurant at Anantara Kihavah may just become your most favourite eating place on the planet. The spectacular sea-side eatery comes with a view so majestic it is guaranteed to be impressed on your mind as a forever memory. Situated on a spacious deck overlooking the azure warm water of the Indian Ocean, you will be hard-pressed to find a better place to start the day, or end it for that matter. Brightly coloured tableware, large umbrellas and a palapa with a high thatch roof remind you that you are indeed in a tropical paradise.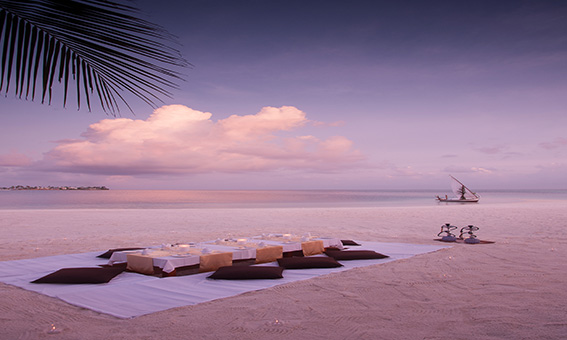 Conrad Rangali
With seven restaurants and 4 bars at Conrad Rangali, you are spoiled for choice when it comes to wining and dining. There is one spot though that must not be missed and that is the Koko Grill Restaurant. It's magnificent alfresco dining ideal particularly, for a romantic dinner. Specialising in Japanese cuisine, it's splendidly situated between the Japanese water garden and the gentle lapping of the lagoon. With an uninterrupted view of the ocean and restricted to 12 guests only, this is a one-of-a-kind dining experience.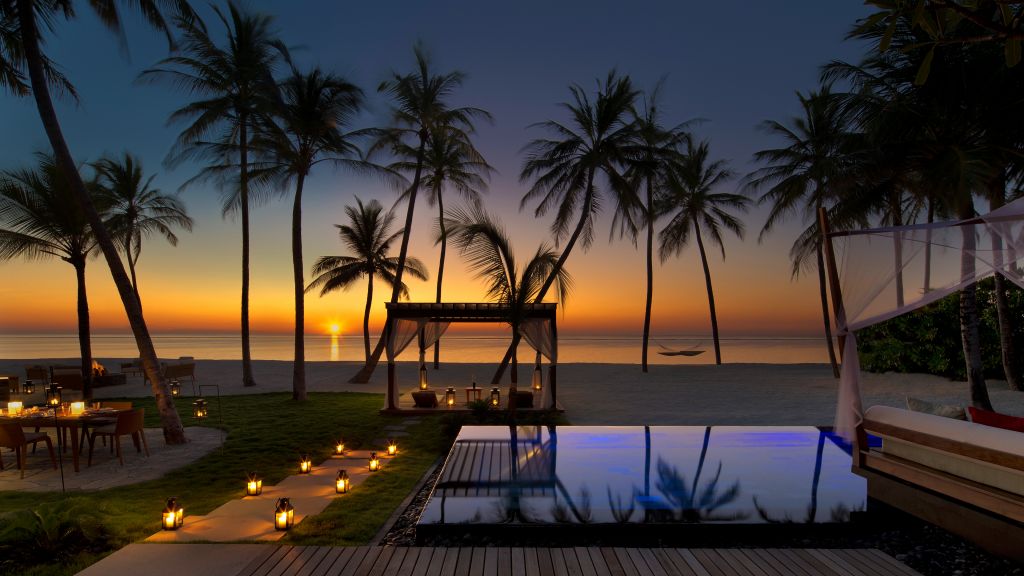 One and Only Reethi Rah
If you are looking for something completely different when it comes to wining and dining at the beach in the Maldives, head to the One and Only (Reethi Rah) and make a reservation at Fanditha. Comfortably away from the main resorts, Fanditha is at the far tip of the island. Here you will find an Arabian wonderland – chandeliers hang from tall palm trees lighting up exotic Arabic carpets, massive cushions on bamboo couches and colourful hammocks. Expect the cuisine to match the setting including Lebanese, Turkish and Syrian delicacies. Live entertainment is often available giving you an opportunity to take to the sandy dance floor and enjoy a jive beneath starry skies.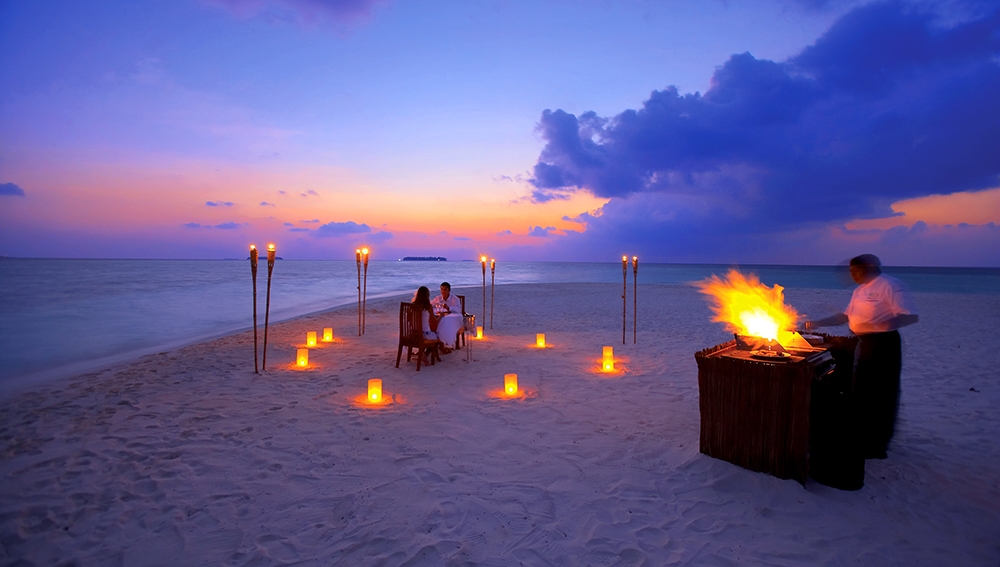 Angsana Velavaru 
What makes Angsana Velavaru extraordinary as a beach front dining venue is the fact that you will be spoiled for choice. They have five speciality dining experiences – you may just want to give each one a try. All are unique and exciting. Start by staying in for the evening. Your butler and personal chef will see to your every requirement right at your villa. With the water lapping just below, you'll enjoy an intimate dinner with your loved one. Then, when you are at Angsana, don't miss the weekly lobster feast which takes place every Saturday on the main beach. The third option is a travelling dinner. It is spread across 2 islands to five different destinations… a course at each one. It's an evening of culinary exploration!  Something you have probably never done before is enjoyed a 5 course meal at a Spa. Enjoy a luxurious massage followed by a delicious meal, all in an elegant Spa setting. The fifth unique option for wining and dining at Angsana is at their private sandbank. After disembarking from the speedboat, you'll enjoy a full barbeque fit for royalty. Spoiled for choice indeed.